Hello my fellow wikians. I'm
LizardMaster178
- and every Thursday (exception for today because it's Tuesday :3) I will release an issue of SimWeekly. It is one of The Sims Wiki's magazines, where you can find many news! Well, don't just sit there like a bored Simmer...peek inside!
The Sims 4 Announcement!

On Monday, 6th May, The Sims 4 was announced by Maxis! It was announced at 15:00 UTC time, live on Twitter and across the web. The original announcement read:
The Sims franchise is fueled by the passion and creativity of its millions of fans around the world. Their continued devotion to the franchise ignites the fire of creativity of the team at The Sims Studio, driving them to continually improve and innovate on one of the world's most successful simulation game that has sold more than 150 million copies worldwide.




The Sims 4 celebrates the heart and soul of the Sims themselves, giving players a deeper connection with the most expressive, surprising and charming Sims ever in this single-player offline experience. The Sims 4 encourages players to personalize their world with new and intuitive tools while offering them the ability to effortlessly share their creativity with friends and fans. They say that the eyes are the window into the soul, let's just say that these eyes are a window into our future. We can't wait to show you more.
They said it will not require an always-on internet connection, and the game will be designed to be played as a single-player offline game. There will be networking and social features available at launch, but they will not be core functions of the game and will be optional. A big event is planned in summer 2013 (third week of August) and well-known fansites and personalities (called the "YibSims", meaning best friends in
Simlish
) are invited to be part of the event.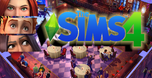 What else will be announced? Please comment below with what you think about the next generation of The Sims!
The Sims Wiki Battles!
It's time for another wiki battle! It will be Life Stories vs Pet Stories vs Castaway Stories! Go to The Sims Wiki:Battles to vote for your favorite!
Poll
What is your favorite The Sims series of games?
---
Well, that's it for this issue! Stay tuned for the next issue of SimWeekly, which will be released May 16th! Please comment below and tell me what you think! Until next time...
--
talk
) 19:31, May 7, 2013 (UTC)