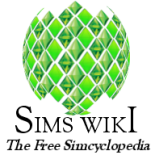 Mid-November News
Hello wiki editors and readers! There have been a few recent events on The Sims Wiki to bring to your attention, as well as some discussions and votes that need user participation and community involvement. Please take some time to check out the Community Portal talk page to see all community discussions.
New Skin Update
The new skin (Oasis) is now default on Wikia, and the old skin (Monaco) has been disabled for everyone. Users can still use MonoBook, an older skin which is similar to the skin used on Wikipedia, by going to their user preferences (this is available for registered users only - you can go here to register an account with Wikia). MonoBook users should be aware that the new skin is the default skin and, as such, is the one that will be used by most visitors to the wiki; because of this, the design and layout of the wiki will be tailored to those users, which may cause usability issues with editors using Monobook.
Info from Released Games
With the recent release of The Sims 3 (console) and The Sims 3: Late Night, there have been hundreds of new articles added to this wiki! Many of these articles are stubs or need some help to make them better, and we are still missing a lot of information about Sims, families, locations and gameplay. If you own either game, any contribution you can make to the wiki would be greatly appreciated!
Featured Content
This month, the monthly contest on the main page has been replaced by a weekly poll. The monthly contest feature may return, but new contest suggestions are needed! If you have an idea for a mainpage contest, or if you want to feature one of The Sims Wiki's User Created Contests, please go here to give your suggestions.
Additionally, there may be changes to the Featured Article selection process in the future. The manner in which Featured Articles will be selected is currently under discussion on the Community Portal talk page and input would be appreciated.
Finally, December will be the inaugural month for Featured User - a user, selected by the general wiki community on this page will be featured on the main page. This is meant to be an incentive to make positive contributions to the wiki, as well as to highlight the good work of others. If you have a user you would like to showcase, please nominate them on the Featured User nomination page.
Achievements
Updated: The discussion regarding Achievements has ended; by a vote of 2 in favor to 6 opposed, the Achievements feature will be disabled as of November 21st.
Current Discussions and Votes

There are a number of other discussions ongoing here at The Sims Wiki; why not get involved and lend your opinion?


Please stay posted to future news blogs to get more information about goings-ons here on the wiki. If you have any questions, comments or concerns, do not hesitate to contact any of our administrators or bureaucrats.

-- LostInRiverview talk · blog 02:32, November 18, 2010 (UTC)
Updates
This blog may be updated as needed by any administrator to add more information about community events.
Blog posts]] Wiki news blogs]] Blog posts/Administration]] Blog posts by LostInRiverview|Blog posts by LostInRiverview]]