This is a special edition of The Sims Wiki Weekly News. This week, we got some new information about The Sims 4 from this year's E3 convention. Some of what we've heard during E3 so far has been confirming or repeating what we already know, but much of it is new. Here is a rundown of the big things we've learned so far, as well as a few lingering questions.
Trailers and videos
On Monday, June 9, EA held a pre-E3 press conference, and spent a few minutes showing off The Sims 4. We have a video of this demonstration below. EA also gave us a look at the new "stories" trailer for The Sims 4, and we have that posted as well.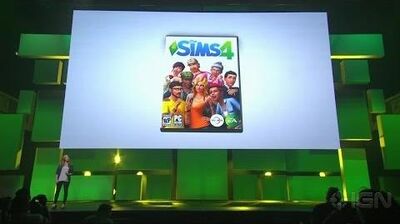 Release date
Perhaps the biggest question that has been answered at E3 is, "When is The Sims 4 coming out?" We now know officially that the game is set to release on September 2, 2014 in North American markets, with releases in other markets to follow throughout the week. Right now, The Sims 4 is only releasing for PCs, and no information has been given so far about when a Mac release is expected.
Willow Creek
The SimGurus have given us more information about Willow Creek. So far, it is the only confirmed neighborhood for The Sims 4, though the Gurus have not closed the door on the possibility of others. Willow Creek itself is inspired by the city of New Orleans, much like Old Town from The Sims: Unleashed. The neighborhood walks the line between The Sims 2 and The Sims 3 as far as how it handles loading. The neighborhood is divided into multiple "districts" which are loaded separately whenever the player enters it; each district has several lots, including both residential and community lots, and lots are not loaded individually. According to spectators at E3, the approximate loading time between districts is around thirty seconds. The loaded districts are said to be more active and vibrant than the open neighborhoods of The Sims 3.
"Alternate Universe" and the timeline of the games
We know that the Goths will be appearing in Willow Creek, but no other returning families have been confirmed as of yet. The Sims 4 is breaking away from the established timeline of the first three games, and is going to exist in what the Gurus have dubbed an "alternate universe;" This allows the developers to feature popular Sims and families without worrying about disrupting the original timeline. For fans of the canon Sims and storyline, this is probably the most acceptable possible outcome, since it preserves the (already confusing) storyline for the first three games in the series.
Gallery
EA has been showing off a newly-confirmed feature; an in-game Gallery. The gallery is a custom content browser that allows players to share their homes, rooms, Sims and families with other Sims players. The gallery is fully integrated, meaning players don't need to leave the game in order to add new content. Although a constant internet connection is not required to play the game, players need to be connected to the internet to access the Gallery. There is no information yet about whether players will need an account with EA or Origin to access that content, but it seems likely that some form of login or authentication will be necessary.
Emotions and interactions
The demonstrators and Gurus have given us more information about the new emotion feature. Emotions are affected by a Sim's traits, as well as interactions with other Sims and with events in the Sim's life. These emotions can be passed along to other Sims through interactions. Sims have a form of memory regarding interactions with other Sims, and this may affect their emotional state for hours or even days into the future. Certain interactions with other Sims will only be available when a Sim is in a certain emotional state. In cases where a Sim becomes extremely emotional, they can actually die.
In addition to emotions, relationship management in the game has changed. In addition to normal relationship meters, The Sims 4 also tracks Sims' "romantic" relationships; this can lead to interesting situations where Sims are angry with each other or even enemies, while simultaneously being strongly romantically attracted to each other.
Other bits
In addition to the big features described above, we've gotten little bits and pieces of information about other parts of the game.
The Sims 4 will have an autosave feature.
A number of Sims that have appeared in promotional materials so far are to be included in the final game, including Sims "Gladys" and "Andre."
Pregnant Sims will no longer wear separate maternity clothes.
Though not directly related to The Sims 4, producers did confirm that no more Store Worlds will be produced for The Sims 3. Maxis teams continue to produce new Store content for TS3, with store packs planned through at least August. There was no information about when The Sims 3 Store will be set to shutdown, but this likely won't be until well after the release of The Sims 4.
Stuff we still don't know
The producers and Gurus have given us some new information, as well as a lot of stuff we've already known. But there are a few burning questions that have yet to be definitively answered. Among them are:
Will there be more than one neighborhood for The Sims 4? As mentioned above, the producers have neither confirmed or denied the existence of additional neighborhoods for TS4.
Will there be cars or driveways in The Sims 4? An interesting note about this question: Previously, producers had confirmed that Sim-owned cars would be appearing in the game, but they were mum about whether Sims entering and exiting cars would be animated (as in The Sims 2) or instant (as in The Sims 3). A recent question about the same subject, however, got a simple "no comment."
Will there be swimming pools? Players watching the footage from E3 have noticed that Create A Sim seems to lack a separate tab for swimwear. As well, footage of Willow Creek seems conspicuously absent of pools.
What are the recommended and minimum system requirements? SimGurus have previously said that this information won't be known until the game is more fully developed and optimized.
---
E3 officially wraps up tomorrow, but I'll keep this blog post updated with any new information that might be made public by then.
Special Thanks
It would be impossible for me to compile all this information if it were not for the help of the amazing Sims news fansite, SimsVIP. If you haven't already, I strongly recommend checking out their website and following them on Twitter (@SimsVIP)!
In addition, be sure to follow us on Twitter (@thesimswiki) for updates as we conclude E3 and await the release of The Sims 4!
Thanks for reading! As always, be sure to give us any feedback or comments down below.
Follow us on: