The Sims Wiki - Weekly Community Blog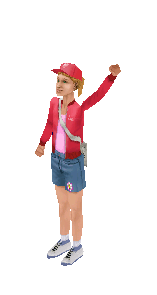 Welcome once again to The Sims Wiki's weekly news blog.
The Sims news
The Sims 3: Island Paradise has released! Some people reportedly were able to pick it up/download it starting on Monday, but by the end of the week it should be released in all regions of the world. If you've gotten the expansion pack, we would greatly appreciate any improvement you can make to our wiki pages about the pack or pack features. Also, be sure to let us know what you think of the pack on our IP release blog!
New Ballet/Performing Arts DLC available. If you're interested in buying the latest and greatest content from the store, you should definitely check out the collection, which includes dance-related objects and a new venue.
The Sims Wiki news
New Administrator. Beds (talk) has been made an administrator after a successful request for administratorship, which ended late last week. If you know of someone on the wiki who would make a good administrator, feel free to nominate them on the RfA page. Or, if you yourself feel you're up to the task, feel free to submit your own application. Please be aware that we have some minimum requirements to meet before you can be promoted, mainly that you must already have rollback rights.
Clean-Up of the Month/Monthly Projects will be returning. Based on a poll taken earlier this month, we will be re-introducing a CUotM or Monthly Project for July. This project will be completely open to all volunteers, and participants will be recognized for their hard work. Look for this project to show up in a later blog post, or in next week's Weekly News Blog.
Reiteration of Wikia's Terms of Use. Due to recent incidents, including a change to Wikia's application of its Terms of Use in lieu of changes to laws, the issue of age-related violations of the ToU have been raised. Please remember that you must be 13 years old or older to be registered with Wikia, including as a member of The Sims Wiki. This is not a local policy, but rather part of the agreement you set up with Wikia when you join. Violating this rule can result in the deactivation (i.e. permanent blocking) of your account across all of Wikia. For more information on this rule and TSW's enforcement of it, please read this post.
Discussions Update. As always, you can start a discussion about anything relevant to The Sims Wiki by going to the Community Discussions Forum and starting a new thread. Below are some of this week's ongoing discussions.
Fun Fact
No base game or expansion pack in the entire The Sims series has ever been released in the month of July.
---
Remember, if you haven't already, to follow The Sims Wiki on Facebook and Twitter. We love having commentary and discussions with the followers there, and we often ask opinion questions, as well as trivia and guessing games. You should definitely check it out!
Well, that's all I've got for you this week. See you in July!
-- LostInRiverview talk ~ blog 17:23, June 27, 2013 (UTC)
Follow us on: