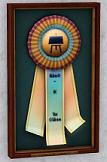 Howdy Simmers! I'd like to make you all aware of this month's User Created Contests week. Here's how this works.

1 - Create a contest! Do that by going to The Sims Wiki:User Created Contests, or by using the tool below:

Your contest should be original, open to everyone (or as open as possible) and fun! You can have trivia contests, competitions between different wiki users (keep it clean!), "Guess this photo" contests, or whatever you can come up with. Once you've created a contest, be sure to comment on this blog so myself and others find it!

2 - Participate in other contests! I'll be watching new contests and I'll be keeping a list of active contests/competitions below. Be sure to check out all the contests on this list:

3 - Check out the main page! In addition to listing contests above, I'll also be linking to active contests on the main page, from now through the end of the month (see the area where the Featured Editor usually is, on the right column). To appear there, all you have to do is create a contest!

4 - Have fun!
---
If you have any questions about this, leave a comment below. Please keep in mind that contests can be created only by registered users. Additionally, contests must follow our rules regarding appropriate/inappropriate content.