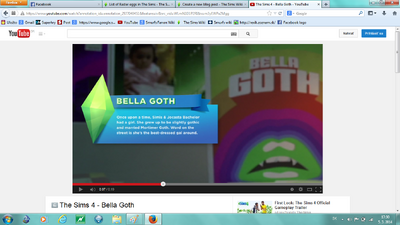 Bella Goth will be in The Sims 4!!!
I watched arrival trailer to TS4 and there are hiden links to video easter eggs,and in one of it is information about Bella goth.
Evidence:
http://www.youtube.com/watch?annotation_id=annotation_2977040451&feature=iv&src_vid=WLmN1D1P2RI&v=m3yEWPa2Mgg
Ad blocker interference detected!
Wikia is a free-to-use site that makes money from advertising. We have a modified experience for viewers using ad blockers

Wikia is not accessible if you've made further modifications. Remove the custom ad blocker rule(s) and the page will load as expected.