Ad blocker interference detected!
Wikia is a free-to-use site that makes money from advertising. We have a modified experience for viewers using ad blockers

Wikia is not accessible if you've made further modifications. Remove the custom ad blocker rule(s) and the page will load as expected.
Some news about sims 4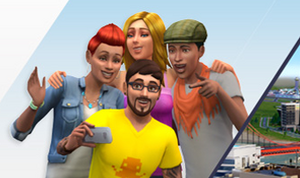 I found on Maxis pages this new picture from TS4!!!
I base game will be tattoo , scarf ,smartphone , eye shadows and new nice red hairstyle (on sim in the left) too .
I just wanted to show you this new render which I found :)
BTW: city in right side of picture is probably just photo from SimCity :/
New blog-post with better (and little bit different) render :
http://sims.wikia.com/wiki/User_blog:Majo.mraz.9/Full_%22selfie%22_render_from_TS4