Some news about sims 4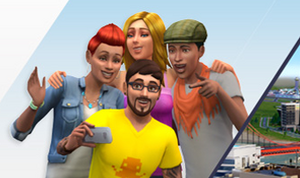 I found on Maxis pages this new picture from TS4!!!
I base game will be tattoo , scarf ,smartphone , eye shadows and new nice red hairstyle (on sim in the left) too .
I just wanted to show you this new render which I found :)
BTW: city in right side of picture is probably just photo from SimCity :/
New blog-post with better (and little bit different) render :
http://sims.wikia.com/wiki/User_blog:Majo.mraz.9/Full_%22selfie%22_render_from_TS4
Ad blocker interference detected!
Wikia is a free-to-use site that makes money from advertising. We have a modified experience for viewers using ad blockers

Wikia is not accessible if you've made further modifications. Remove the custom ad blocker rule(s) and the page will load as expected.