Fowl and Feathers Chicken Coop
Are you a fan of farming, and wished Sims could be closer to farming life? Technically, the gardening system in The Sims 3 is a good start, and EA has provided us with Riverview, a country-themed neighborhood and The Sims 3: Pets that's close to that. No, no Farmville EP yet, but that's not my point. EA has released a new Premium Content, the Fowl and Feathers Chicken Coop!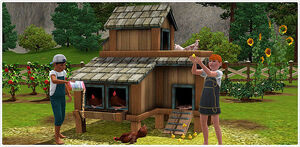 That's right, chicken coop. And chickens and chicks! Aren't you excited? Because I myself am not, but maybe you are. So basically, eggs don't just grow on plants anymore! Sims can feed the chickens, collect eggs, interact with the chicks, and even encounter and fight against the infamous Charles the evil chicken. Sims can also collect rare fancy eggs from the coop, worth §1,500, but I heard the eggs tend to rot easily, so try to keep them in the fridge fast!
At the time, the chicken coop is not available for individual purchase at the store. It is included in Country Livin' bundle, that costs 1,500 1,250 SimPoints at the moment. Sale ends at April 19! Are you buying it?
Nikel Talk – Vote! 09:35, April 5, 2013 (UTC)
Follow us on: