The Door of Life and Death
I suppose The Sims 2 players are quite familiar with the term "L&D", no? It stands for "Life and Death". So yeah, check out the latest premium content in the store: Door of Life and Death! Pretty cool, isn't it? SimGuruTaterTot has shared the designer's thought in her blog. You can read it here.
This premium content comes in a set that's bundled with Grim's Ghastly Manor venue for 1,900 SimPoints. It didn't surprise me though, since most premium contents nowadays have to come with venues I don't need. Mainly because I don't need two of the same lot assignment in one neighborhood. This venue is set as a graveyard, and it's pretty much appropriate. It's quite wide, however, in size of 50x25.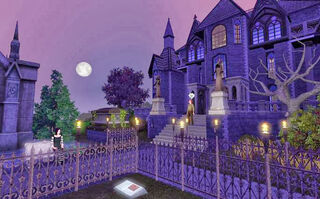 That being said with the venue, what does the door offer? Well, it seems that this door offers a lot of features, and it's mainly about Sim's life and death, as the door implies. Among other stuff, you could:
Bring a Sim's tombstone to the door and ask the Grim Reaper to reincarnate the deceased Sim. Reincarnating Sim isn't exactly the same as resurrecting them, though. The Sim will be brought back as a baby, and they will lose some of their skills. However, the result might be unexpected as well. Their appearance might not be exactly the same as before, and their gender (and even species if you have Pets installed) might even change! I say reincarnation is nothing more than "delete this Sim and create a new one."
You can chat with the Grim Reaper through the door, but occasionally, his pet pit monster will grab and attack the Sim, killing him/her. The good thing is it's one of the things to deter disturbance of paparazzis and zombies, like the Cowplant and Peashooter. To be honest, it's useless for the zombies since they cannot even enter the house without being welcomed first.
Your Sim can ask to get self-pregnant from the Grim Reaper (the door, actually), and even decide the life state, except vampire, which has been forgotten. Both male and female Sims can, yeah.
Remember the fiddle challenge with the Grim Reaper in The Sims 2 (console)? This time, since violin wasn't in the base game, Sims can challenge the Grim Reaper to a guitar duel. Winning rewards the Sim a Death Flower while losing will summon the pit monster.
---
Update
If anyone is curious about the technical information of the premium content's Grim Reaper, well... it's not the real Grim Reaper NPC as we know. The Grim Reaper used in this content is a phony. The game will generate a new Sim (important to notice if you concern your world's population, like me) who's disguised as a Grim Reaper. The "Grim Reaper" will not float, will not have smoke... he's simply a Sim.
Some spawners are pre-placed in the venue. Remember that rotating the venue with spawners from the edit town is a VERY BAD THING!!!
The reincarnated Sim will lose all their unique genetics. It's kind of expected: reincarnated Sims might be different from how they used to be. But if you're someone who's concerned with your Sim's genetic, then this should come into consideration. The reincarnated Sim will have the default pudding face, random hair color, random skin tone, and the default voice #1 set in 50% pitch.
Source: babele44's post at ModTheSims.
Update 2
The Simulate Genetic Merger feature is faked. Even though it asks whose genetic the baby will copy from, it doesn't work like it should. Instead, the baby will always use the default pudding-faced templates and they will not look anything like their chosen genetics. So don't bother using this feature.
---
Share what you thought about this set! Nikel Talk – Vote! 08:53, October 17, 2013 (UTC)
Follow us on:
Ad blocker interference detected!
Wikia is a free-to-use site that makes money from advertising. We have a modified experience for viewers using ad blockers

Wikia is not accessible if you've made further modifications. Remove the custom ad blocker rule(s) and the page will load as expected.