Aurora Skies - a new The Sims 3 world announced!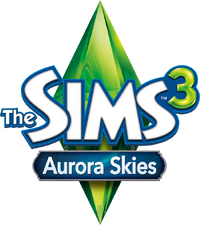 Did you hear? EA has announced another world for The Sims 3: Aurora Skies! You can read the blog by SimGuruTaterTot here. By the looks of it (and judging from the name), the world showcases its beautiful scenery in the night sky, as well as its mountainous Icelandic theme. It's said to be released on February 21, so get ready (if you want to grab it!). Still, it feels like it's just been a while since they released the latest world, Monte Vista. More of it, they said it would be in Gold and Standard edition (again). ;) What's the next Gold edition items again? I haven't lurked much, but I heard they would include a hot air balloon, which Sims can ride on. Most likely as part of Gold edition.
So what do you think of it? Will you buy it and complete your collection? Share your thoughts!
See Also
I should really study now... Nikel Talk – Vote! 17:11, January 31, 2013 (UTC)
Follow us on: