The Sims Wiki - Weekly Community Blog
Hi! Welcome to December 6th weekly news. This time it's my turn to write up the weekly news blog.
The Sims news
Have you checked the new venue, Stones Throw Greenhouse from the store? It's not really new, just to mention. It's on sale until January 2nd, for a decent discount of 200 Simpoints.
Monte Vista has been/will be released today! With some spoilers retrieved from the gurus, we've learned that the Montys are making their return. But now, we can actually see them in-game! What more surprises would EA include with the town? Are you getting them? ;)
Monte Vista is sold in Simpoint Bundles (in $20 and $35)[1], making the world purchasable with real cash instead of Simpoints. The bundles themsleves include extra Simpoints upon purchase. The $35 bundle will include an extra venue, which can be purchased separately as well.
Here's a small tip for fellow Simmers, especially the builders. When you include spawners in your lot and then bin it in the lot bin in The Sims 3, try not to place excessive amount of spawners there. Whenever the lot is placed and rotated, all spawners duplicate themselves and multiply their numbers. This can cause lagging in your game if you're not aware of it. IIRC, the elixir consignment store from Supernatural has spawners in it. Perhaps that explains why there are so many spawners in my lot. *Shrugs*. Source: [1]
ETA:Monte Vista isn't featured with Festival Grounds lot. Instead, the lot is available for download in The Exchange from SimGuruSemedi. If you have Seasons, get it there!
Community news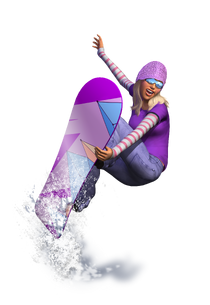 What's happening during this week? It's December now and it's near Christmas holiday for those of you who will celebrate it, including me. :) Do you feel the holiday festive? To me, no, it's always the same old same old here, while the people in the northern hemisphere might feel a little cold while the other part of the world will feel warm, and in-between, just normal and so-so, I guess. Let's review the community!
Let's welcome our new administrator here, Mathetesalexandrou! For those of you who haven't known him yet, he's been in this wiki rather long, and he's made a number of great fanons here. Yup, he's notable for his participation in fanons. Congratulations, Mathetesalexandrou!
Have you ever been in our chat room? If not, take a visit! We are currently trying to revamp the emoticons used in the Chat. Let's discuss it in this thread! :)
As we're approaching the holiday, the administrative team are trying to redesign the layout to match the theme: Holiday Theme.
This holiday shouldn't be just missed without contests. Do you have ideas to share for a holiday-themed contest? tell us! Also, with the recent release of Seasons, it might be best to have your Sims spend their wintertime now, throw a Gift Giving party, and visit the Winter festival in Snowflake Day!
Last, if you haven't visited our newly-designed forum, check out there. Click here to keep up with the latest community discussions and here for our game discussions!
---
That's all for this week's news! Would you like to get involved in the weekly news? Sign up here! :)
Nikel Talk – Vote!16:49, December 5, 2012 (UTC)
Follow us on: