Due to my real life business, I haven't been able to write up this release blog until now, so apologies for the lateness.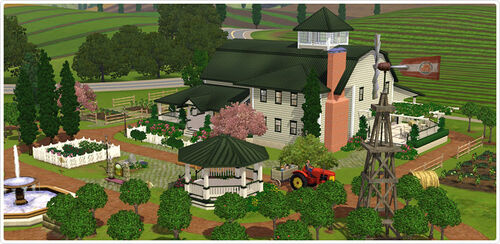 Approximately last week, on November 7, 2013, the Store team has released a new set, Grandpa's Grove, for 1,900 SimPoints (no sale this time). So what does this set provide?
A large, space-consuming, farming-style residential lot. Looking good for your grandpa, farmer Sim, or a farmer grandpa!
Tractor premium content, another thing that will complement your farming set. Another real aid for serious gardeners farmers.
Oranges!
---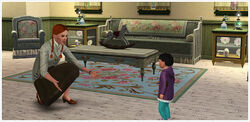 Talk about the venue first! Unlike previous venues, this venue is a residential lot. It's still space-consuming as always, but it really looks neat in a farming area, like Riverview... Well honestly, it only fits there, since it won't look as nice in Appaloosa Plains, but that's just my opinion. The set contains several furniture as well as some clothing.
Let's think again. How many farming-themed sets has EA released in the store? Why would they make more and more farming themes after another? And they even included premium contents in the sets! We could've saved a fortune if all these farming sets were just bundled in a Farming EP, or perhaps change Pets into The Sims 3: Animals & Farming EP.
But EA wouldn't let it happen. They want our money.
---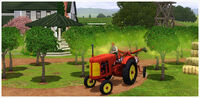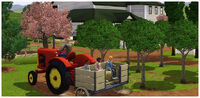 Here's probably the selling point, the Grandpa's Grove Tractor! This tractor helps you with Gardening, as if the green dragon and greenhouse weren't enough. Also, this tractor will complement with the other farming collections, the chicken coop and the cow.
This tractor actually moves when Sims ride one. The tractor needs a proper dirt track, which can be laid down from the Buy mode piece by piece. And then, the tractor will follow the track you set. I'd say it's pretty cool, except that it requires a very large space for optimum result, so the space-consuming venue that comes with the set seems appropriate for this.
What else can this tractor do? For starters, adults and teenagers who've learned to drive can ride the tractor. They can also give a hay ride for up to 3 other Sims, for toddlers and older! Aside from the fun ride, the tractor can also water, fertilize, weed, and harvest the plants that are alongside the tracks! It has a range to reach the plants from the track though. It's about 7 tiles or so, but I don't quite recall. So bound the garden farm with the track for best result.
---
Perhaps another selling point here is the new orange harvestable produce. Similar to the lemonade stand & market stand premium contents which include lemon and purple eggplant, this set adds orange, complete with the autosoil in the BuyDebug. But unlike lemon and purple eggplant, which can be used as ingredients for lemonade (for lemons, obviously) and pizza, oranges don't seem to have any real use here. Perhaps they're planning ahead for future premium content, but orange is basically an ordinary fruit with no unique use. It can be used for orange nectar, however.
---
Overall, I think this set looks great. I don't like the excessive contents included with the set, but I'm really into the new harvestable. What do you think about it? Nikel Talk – Vote! 04:04, November 16, 2013 (UTC)
Follow us on: