So, today while playing The Sims 3, I thought I wanted to make the McReary family from GTA 4. This took longer than you think, so I hope you like them, and be sure to tell me your favorites! :)
NOTE: The quality is kind of weird because I had to take the pictures with my phone. The printscreen button just ended up with a black screen instead of a picture. Anyway, heres the family: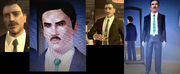 Ad blocker interference detected!
Wikia is a free-to-use site that makes money from advertising. We have a modified experience for viewers using ad blockers

Wikia is not accessible if you've made further modifications. Remove the custom ad blocker rule(s) and the page will load as expected.