Strangetown. I confess it; I hate it. If the creators had added Magic Town and/or some other paranormal element to this neighborhood, I might have been so quick to get rid of it. Maybe this kind of neighborhood could one day be added to Sims 3. Or Sims 4
But I did come up with a storyline that not only wipes out StrangeTown, led to a major storyline in Pleasantville. I am looking to posting that story here soon.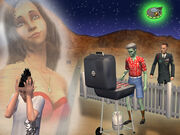 Ad blocker interference detected!
Wikia is a free-to-use site that makes money from advertising. We have a modified experience for viewers using ad blockers

Wikia is not accessible if you've made further modifications. Remove the custom ad blocker rule(s) and the page will load as expected.