Comments

7
Kaylynn Langerak in my custom neighboor?!
I not sure if this is a glitch but, when I hire a maid (In my custom neighboord, not Pleanstview), and when she arive, I drag my pointer over her and her name was Kaylynn, I mean what up with that?! She suppose to be in Pleanstview not in Blossom Cove (my custom neighboor).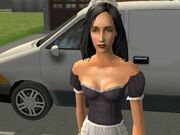 So the point is I have no idea.