Hello Cutabello and welcome to The Sims Wiki, and thank you for your contribution to the File:Alien in the sims 3 seasons.jpg page! There's a lot to do around here, so I hope you'll stay with us and make many more improvements.
Recent changes is a great first stop, because you can see what pages other people have been editing, and where you can help.
Questions? You can ask at the Help desk or on the "discussion" page associated with each article, leave a message with an administrator or post a message on my talk page!
Need help? The Community Portal has an outline of the site, and pages to help you learn how to edit. You may also try asking for help on the IRC channel, where some users may be able to help you!
Want someone to guide you along the way? Check out our user adoption program which is designed to help out new and possibly inexperienced users like yourself.
Spotted some vandalism? We have a team of administrators who will happily deal with vandalism when they see it. If you have found some vandalism from a user who hasn't been sanctioned, you can help by reporting it!
Please sign in every time you edit, so that we can recognize you!
Want to get noticed in the community? Well, we have tons of opportunities for you! The Forums is great for The Sims and The Sims Wiki related questions and games! Not your style? How about a chatroom with your fellow contributors? Have some fun on the IRC channel! We are also the host to a variety of community created contests. Want to suggest a change for the wiki? Feel free to ask on the community portal! So, what are you waiting for? Get out there and have fun!
I'm really happy to have you here, and I look forward to contributing with you! -- GEORGIEGIBBONS (Talk) 22:12, 2 November 2012
British vs American English
Edit
Welcome to The Sims Wiki. I've noticed that a couple of your edits have changed the spelling of words (e.g. colour/color, centre/center) to adhere to British English standards. While this isn't incorrect, it is worth noting that our Manual of Style says something regarding these changes. I'll allow you to read the appropriate section for yourself, but to sum it up, our policies are as follows:
You shouldn't change the spelling within an article to conform to your own background/preferences. Both spellings of certain words are acceptable.
The spelling of certain words should be the same within one article. An article shouldn't alternate between spelling a word as 'color' and 'colour' for example. But if an article in all instances uses 'color', it should be left as-is (or vice versa).
Ultimately, our Manual of Style states a preference for American English, though not to the point where articles utilizing British/Commonwealth English are edited into American English.
All this should be taken as follows: please don't edit the spelling of words to a different style, unless there is a difference in styles used within the same article.
If you have any questions about this, please leave me a message on my talk page. -- LiR speak ~ read 21:13, November 14, 2012 (UTC)
Haunted House Ghosts
Edit
Hello there. I noted your change to The Sims 3: Seasons and had a couple of questions. Is there a moodlet that Sims have when leaving the haunted house as ghosts? (I suspect the Temporarily Undead moodlet, the same as drinking a Ghost Potion, but that's pure speculation.) -- Lexmechanic (talk) 21:23, January 25, 2013 (UTC)
A Quick Tip :)
Edit
For that image on your page, you might do away with all of the colons you're using to indent it. Instead, specify it's aligned to the right, like so:
[[File:Poke.gif|thumb|right]]

— Lexmechanic (talk) 19:10, February 20, 2013 (UTC)
When linking to another page on the wiki, it's better to use this form [[Article name|link text]] than single brackets and the link's full URL. Also, the {{vgversion}} template has a codes for the base games; for The Sims 2, it's {{vgversion|TS2}} . Dharden (talk) 18:52, March 30, 2013 (UTC)
Again, please use double brackets when linking to another page on the wiki. For example, [[Simbot]]s and [[Mummy|Mummies]] rather than [http://sims.wikia.com/wiki/SimBot Simbots] and [http://sims.wikia.com/wiki/Mummy Mummies] . It looks better when other people edit, especially if a page has many links. Dharden (talk) 14:03, April 1, 2013 (UTC)
IP Game Cover
Edit
I'm just saying there's absolutely no need to upload the same game cover image, in this case, for Island Paradise. Also, you don't need to include it to the image gallery, because technically, that would show the same image in the same page twice. Should you need to update the game cover, replace the existing one. Nikel Talk – Vote! 09:33, April 9, 2013 (UTC)
Licensing images
Edit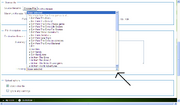 Hi there Cutabello, I have noticed that you have not licensed and categorised the images that you have been uploading. I have gone ahead and licensed and categorised them for you, but you should probably do them yourself the next time. To do this, you need to click on the image link and this will take you to the file information page. Simply click on the dropdown menu and then click on the appropriate licensing. For instance, I have licensed the Dragon Valley images as "Screenshot from Sims 3". If you have any questions, feel free to ask me on my talk page! Thanks! :) HanaGoth96 (Neigh...?- Blog...?) 12:42, May 14, 2013 (UTC)