Hi, and welcome to The Sims Wiki, NY22Giants22! Thanks for your edit to the User:NY22Giants22 page.
Please leave a message on my talk page if I can help with anything about the wiki! (If you have questions about the game, please ask them in our Questions forum.) -- LostInRiverview (Talk) 02:57, October 28, 2010
Please be sure to create fanon articles under the proper namespace, like this Fanon: >name of the article<. Thank you! --Guilherme Guerreiro (talk here) 23:48, February 25, 2011 (UTC)
Oh, I'm sorry. I thought I did. NY22Giants22 00:40, February 26, 2011 (UTC)NY22Giants22
Great job!
Edit
Great job on your Fanon Sims! They seem really interesting, and the articles are well organized and well-written. I look forward to reading more! :D —Random Ranaun (Talk to me!) 00:56, February 26, 2011 (UTC)
Thank you so much! It mean a lot :) NY22Giants22 01:00, February 26, 2011 (UTC)--NY22Giants22
Please make sure you categorize and license the images you upload. —Random Ranaun (Talk to me!) 23:21, February 26, 2011 (UTC)
Just add Category:Images of Sims 2 Sims to the headshots, Category:Sims 2 snapshots to the screenshots, and {{Copyright by EA}} to all of them. —Random Ranaun (Talk to me!) 23:47, February 26, 2011 (UTC)

Oh! You have to rename the images to something else. TSW (The Sims Wiki) blocked all images starting with "Screenshot" or "Snapshot." —Random Ranaun (Talk to me!) 05:35, February 27, 2011 (UTC)

You can rename images by clicking on the arrow on the green "Edit" button at the top of the page, and choosing "Rename." ^_^ —Random Ranaun (Talk to me!) 23:36, February 27, 2011 (UTC)

Oh, I guess only admins can rename them. You can just tell me what you would like the images to be named and I'll change them. —Random Ranaun (Talk to me!) 03:49, February 28, 2011 (UTC)
Re: Question
Edit
I'm not sure. I believe you have to upload them to TheSims3.com. —Random Ranaun (Talk to me!) 03:06, March 6, 2011 (UTC)
Re; Family trees
Edit
I make them using Windows Paint. I could make one for your Sims if you want. Do you have all of your Sims portraits uploaded? —Random Ranaun (Talk to me!) 00:12, March 13, 2011 (UTC)
I've started creating it, just in case. Do you have a special image you want for Lucy Hanby, or do you want me to use her default portrait. Also, you can create a fanon page for her if you want. :) —Random Ranaun (Talk to me!) 05:17, March 13, 2011 (UTC)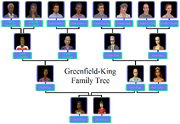 Here you go. :) —Random Ranaun (Talk to me!) 07:48, March 13, 2011 (UTC)

If you add any more Sims in the King family, make sure you tell me and I'll add them in the family tree! ^_^ (P.S. Your Sims are so cool! :D ) —Random Ranaun (Talk to me!) 17:25, March 13, 2011 (UTC)
Your images, File:Harold Greenfield.jpg and File:Jacqueline Greenfield.jpg are unused, and are in danger of being deleted. If you want to save them, please collect them, and add them to your user page, so they will no longer be unused. Ѧüя◎ґ 08:58, April 5, 2011 (UTC)
Family Tree
Edit
Sorry it took so long, I had some things to do in RL. I've added them to the family tree; I've also increased the size and quality of it and made it transparent. Please let me know what you think! :) —Random Ranaun (Talk to me!) 12:14, June 26, 2011 (UTC)
King Family
Edit
I relly like the King family that you made. Their story is very intresting an unique! You should try creating a neighborhood with your own storyline and create a fanon, that would be relly cool!limegreen5 20:27, July 24, 2011 (UTC)
Well actually I'm remaking Meadowview haha... There weren't enough families and the plot wasn't very strong. There's gonna be like new characters and stuff they're sorta similar to the Pleasantview people cuz i love pleasantview XD. So ya... I did make two profiles for my characters i made one for Edmund Gilmore and Janice Gilmore but their like all messed up and junk haha... so yaaa I'm lookin forward also to readin about ur characters 2!limegreen5 01:26, July 25, 2011 (UTC)
Oh btw, what I usually do before making a neighborhood is I write out a plot before making the neighborhood and I usually give my characters ancesters and plan out the names before going on the game. Its easier for me to do. I also did a LOT of research on Pleasantview before making a neighborhood cuz i like making neighborhoods similar to Pleasantview. BUT if you'd like ideas for a plot I'd be more than welcome to help you! I'm really good at making up plots for neighborhoods because I have a lot of experience. Haha well have a pleasant dayyyyyy!limegreen5 01:47, July 25, 2011 (UTC)