Ad blocker interference detected!
Wikia is a free-to-use site that makes money from advertising. We have a modified experience for viewers using ad blockers

Wikia is not accessible if you've made further modifications. Remove the custom ad blocker rule(s) and the page will load as expected.

Williams family

Description
'Aimee Williams is a marvel in the kitchen, but her husband Marley is a bit of a dreamer. Will he be able to support the two of them and little Malika, or will Aimee have to use her skills to earn some dough?'
Name
Williams family
Members
Marley Williams, Aimee Williams, Malika Williams
Number of generations
2 generations
Funds
§20,125
Difficulty level
Other Information
Game
The Sims 3
Playability
Family Bin
Not to be confused with Williams family (Arbor Falls).
The Williams family is a premade family that appears in the family bin for The Sims 3, meaning that they can be copied into any neighborhood. The family consists of Marley, Aimee, and Malika Williams.
Onomatology
Malika: Possibly a female form of the Arabic (Egyptian) name "Malik" (ملك), meaning "king or master."
Aimee: "beloved, liked."
Family tree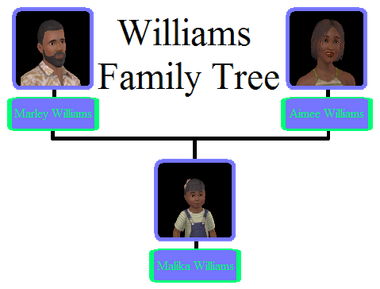 Members
Photo album