The Yat Sen family is a foreign family in Shang Simla from The Sims 3: World Adventures. The family consists of elderly Abi and her son, Liang. It is unknown who the real father of Liang is, which makes Abi the single parent of Liang.
Onomatology
Yat Sen: Reference to Sun Yat Sen (孫文 / 孫中山, 1866-1925), Chinese revolutionarist who proclaimed the Republic of China.
Liang: (梁) Chinese for bridge, girder, Liang Dynasty.
Family tree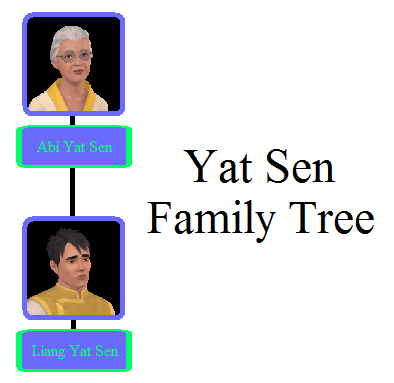 Members
Ad blocker interference detected!
Wikia is a free-to-use site that makes money from advertising. We have a modified experience for viewers using ad blockers

Wikia is not accessible if you've made further modifications. Remove the custom ad blocker rule(s) and the page will load as expected.